ohU

 

collection

  
Our first collection of children's furniture, OhU, is composed of 4 basic pieces: osit (a baby chair), Ustructure (a structure), hchair (a chair) and Itop (a board-desk), that can all be combined.
Using these elements, and in a very simple way, we can put together 4 packs that will grow with them:
          • osit, a baby chair
          • oUeat, a high chair that transforms into a chair-desk-storage space
          • ohplay, a chair-table
          • Ubdesign, a desk composed of all the basic pieces in this collection    

All packs have multiple positions and functionalities for all the different ages. We have an Individual line and a duo line, so that kids can grow up sharing and interacting from the start. Take a look at our videos here to see this innovative concept of practical, useful, functional and beautiful children's furniture.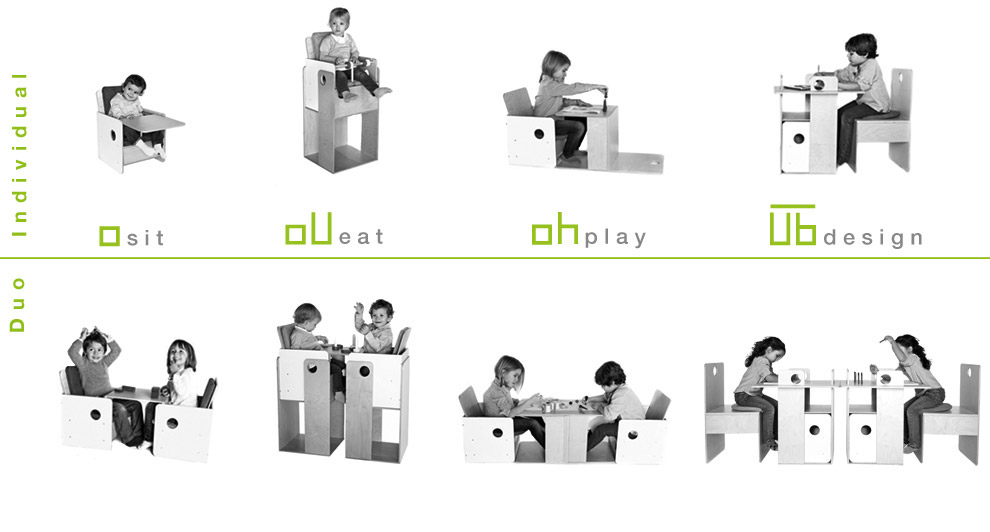 Did you know that... All the names in our children's furniture collection have a green prefix that indicates the simple form of each basic piece? After the prefix you will find the basic function of each element, making up unique names for our compositions.